FUNDRAISING
"Alone we can do so little; Together we can do so much."
-Helen Keller, Author and Political Activist.
FUNDRAISING IDEAS
If you would like to organise an event or complete a personal challenge to raise money for STEP-IN please contact us and we would love to support you!
Here are some ideas to get you started:
CHALLENGES
Challenge yourself!
Whether that be to a sponsored walk, run, hop, or cycle! You are more likely to grab people's attention if you do something outside of your comfort zone.
COOK, BAKE, OR DINE
Many of our previous fundraisers have been based around the topic of food. Why not hold a bake sale or a 'Come Dine With Me' style fundraiser where you can test out traditional Iraqi dishes on your friends and family?
Try Biryani or Dolma! If you're feeling particularly adventurous Masgouf is a favourite at the STEP-IN staff house!
PANELS AND TALKS
Organising panel discussions of professional talks are a sure fire way to get people who are interested in the current climate in Iraq to attend your fundraising event! Many of our other successful talks have featured post-event socials where like-minded people can discuss the event and donate to our cause!
USE YOUR IMAGINATION
Sometimes the best way to organise a fundraising event is to set it around your own particular skills!
Are you a creative? A good cook? A thrill seeker? Are you better at working in a team or individually? Maybe you could organise a fundraising event with your friends or colleagues!
PREVIOUS FUNDRAISERS
Take inspiration from some of our previous events!
HOMELESS NATIONS: Is there a safe haven for Iraqi Minorities?
WHAT: A panel talk and discussion, concluded with wine and live music. Donations to STEP-IN accepted throughout the evening.
WHERE: Bratislava
WHEN: 2018
Dinner of Good Ideas
WHAT: A talk and dinner event held by STEP-IN staff alumni Lucia and Ash to conclude their '#cyclingforiraq' journey. Donations accepted throughout the evening.
WHERE: Bratislava
WHEN: 2018
Gastros: Cooking For Iraq
WHAT: A dinner simultaneously fundraising for STEP-IN whilst also welcoming Iraqi refugees to Slovakia. A Slovak cooking group made traditional Iraqi dishes for 500 people. The evening ended with live music. Donations were accepted throughout.
WHERE: Bratislava
WHEN: 2015
Fundraiser for Khalid
WHAT: A fundraiser held by STEP-IN staff alumni Bernadetta, in cooperation with the Malek Foundation and the parish of Father Mirek. The campaign raised funds for HandSAP beneficiary Khalid, who waited 4 years for a cochlear implant after being struck deaf by an explosion.
WHERE: Poland
WHEN: 2019
Photo Exhibition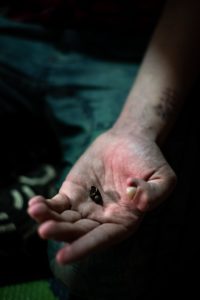 WHAT: A photo exhibition was also held during the Homeless Nations talk in Bratislava. The exhibition featured photographs of genocide survivors by Matus Duda. Donations were accepted throughout.
WHERE: Bratislava
WHEN: 2018